Login to Vereign on mobile using your desktop browser identity
Open your favourite browser and go to our Login page.
You will be presented with the following screen.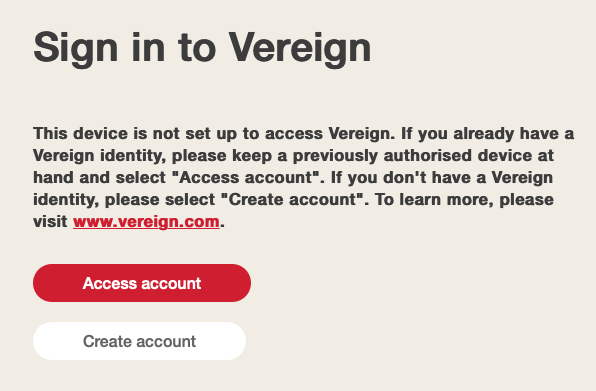 If you are using Vereign for the first time select Create Account.
2.1) Login using QR Code
You are presented with a QR code which you can scan from a logged-in mobile device and verify it's really you.
On your mobile browser navigate to Vereign's Dashboard.
Enter your device PIN.

Select the accordion menu on the top-left.

Select Devices.

On the bottom right there is a red button by which you can add a new device.

Click on Upload QR code image.
You are presented a few options from which you can select Take Photo.

On Android you will have to give the browser permissions to use your camera.

If you are having issues with uploading a QR code image look at the following topics:
How do I enable cookies for Safari on iPhone?
How do I enable cookies for Chrome on Android?
If your picture got transcribed successfully you are taken to a screen in which you can set your new device's PIN.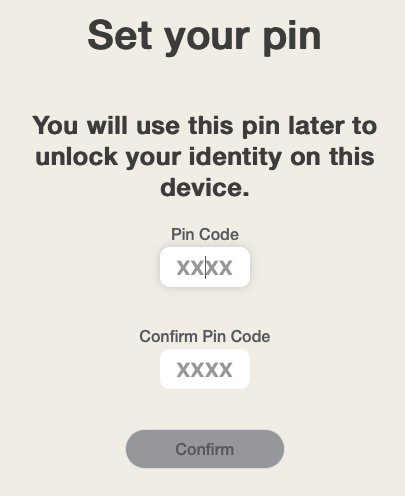 Afterwards you are taken to a screen to login using your newly chosen PIN.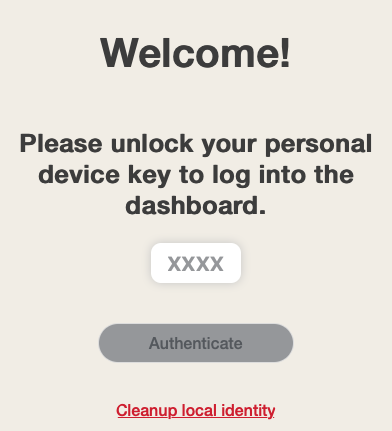 At this point if you try to login you will see an error.


At this time you need to go to your mobile browser where your Vereign identity resides and go to your Devices screen from which you can see the new request to add a device. You will see that it says unauthorized.

Tap on the three dots on the right and tap Authorize Device.

Afterwards go back to your other browser and try to login using your newly created PIN and it will work.
Recover your account
If you have selected Access Account you are presented with the option to recover your account.

Once the process is initiated you will get a code in the e-mail account or phone number provided and will get notified about this attempt on all other verified e-mails and phone numbers.

Once the process is initiated you will receive an e-mail or SMS depending on what you entered (only if the credential was valid).

After entering the code successfully you will be prompted to select a new device PIN.

After you confirm the PIN you can use it to login to your Vereign identity immediately afterwards.
We are looking intro improving this process and your suggestions are very welcome.