Overview
Sealing and verifying are two different operations and they are performed by different applications. Together they make up Vereign for Gmail.
Part 1 : Seal messages
To perform the Seal operation you need to install our Google Chrome Extension.
It will append a blockchain secured, verifiable QR code to your message right before sending it.
Install our extension
Go to the Chrome store and install Vereign for Gmail by selecting the Add to Chrome button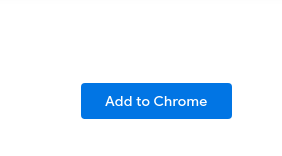 On the pop-up select the Add extension button

Our extension is now added to your browser

Note: Vereign for now supports all Chromium based browsers, such as Chrome, Brave, Opera, Microsoft Edge (latest version)

Check if the Vereign icon is shown at the top bar on the right-hand side of your browser window. If it isn't, click on the Extension icon showing a puzzle piece and select Pin Extension right next to Vereign for Gmail.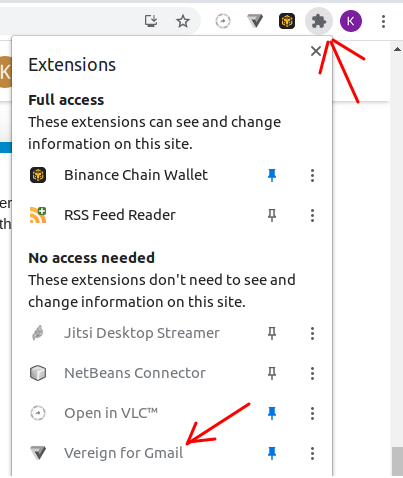 Close your browser and start it again. This will initiate our extension.

Since it is your browser extension that seals your Gmail messages, you will be required to additionally enter your Gmail password whenever the browser session ends and restarts. This is for your own security to ensure the right ownership of the account. You will be getting the following pop-up:
Send sealed messages
Sealing an email is very easy - in fact it is no different than sending an email as usual
Login to your Gmail
Make sure you have entered the password required for additional security
Click on Compose to create a new email
If you see the notification "Message will be sealed and secured by blockchain", then your extension is enabled. Just start writing your email.
If you don't see it, you can enable it by clicking on the Vereign icon in the bottom toolbar and shifting the lever by clicking on it again:
Complete your message and click on the Send button. This triggers the creation of the seal in the form a QR code. Your message is now "sealed at origin and secured by blockchain".
Part 2 : Verify messages
The verification of a sealed email is performed at the receiving side of an email. It can be done manually by clicking or scanning the QR code or automatically inside the Gmail client by our Gmail Add-on.
Install the Gmail add-on
Go to Google Workspace Marketplace and install Vereign for Gmail by selecting Individual install for an individual Gmail account or Domain install depending on your situation.

An alternative way to install the Add-on while you are logged into your Gmail account is by clicking the + icon at the right-hand side bar of the Gmail client window.
At the pop-up of Google Workspace Marketplace search for Vereign
Select the Vereign for Gmail add-on and then click Install
Follow the wizard. Once completed you will see the Vereign icon at right-hand side bar
Click on the Vereign icon to keep enable auto-verification for every message. The results can only be trusted for messages containing the Vereign seal.

Once you have the verification add-on installed for your Gmail desktop client, it can also be selected for the Gmail application on your mobile phone.
Video
Here is a short video on how to seal an email and then verify it
Related topics
Send a sealed email with Vereign for Gmail